As many as 17 wickets tumbled on an action packed Day 2 in the First Test at Galle! Sri Lanka are having the edge all because of a sizeable first innings lead of 125 runs. The hosts are no doubt in a mess at 84 for 5 in their second innings but their overall lead is nicely at 209 on a pitch that has seen 25 wickets fall down in two days.
Sri Lanka began their second innings after the Tea Break and soon found themselves at 14 for 3 in 8.1 overs. Tillakaratne Dilshan was first to go for a duck when he played all around an inswinger in a flick to get bowled off Stuart Broad in the 2nd over. Off Spinner Graeme Swann delivered the next two blows when he cleaned up Lahiru Thirimanne (6) with one that drifted in but turned away to hit the off stump. Skipper Mahela Jayawardene (5) who ended with a brilliant knock of 180 in the morning got caught at slip when he misread a straighter one as an off break.
Swann struck again for the visitors in the 19th over when his sharp turning off break had Kumar Sangakkara (14) nicking it to slip. By the close of play, Swann picked up the solid looking Thilan Samaraweera (36 from 74 balls with 5 fours) who came down the track for an off drive but missed what was a widish straighter one from round the sticks for an easy stumping.
The Lankans finished Day 2 at 84 for 5 in 34 overs with Dinesh Chandimal on 17* alongside with night watchman Suraj Randiv (2*). Graeme Swann had a great evening with figures of 12-2-28-4.
Rangana Herath takes six wickets as Sri Lanka capture 125-run lead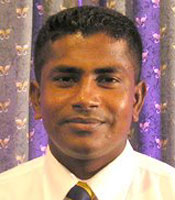 Tea Report: World No.1 Team in Test Cricket – England once again showed how vulnerable they are against quality spinners. The visitors collapsed to 193 all out in just 46.4 overs by Tea on Day 2 to concede a sizeable first innings lead of 125 runs! Left-arm spinner Rangana Herath wrecked the English innings capturing 6 for 74 in 19 overs.
It was a quick breakthrough for the hosts after Lunch as Kevin Pietersen (3) dragged a drive off Chanaka Welegedera onto his stumps leaving England at 65 for 4. Within no time, Rangana Herath squared up Matt Prior (7) on the backfoot and got a delivery to turn away sharply from leg to hit the backpad plumb infront of middle. Debutant Samit Patel (2) was the next to go when he went back rather than coming forward and got trapped infront of middle by an arm ball from Herath as England slipped to 92 for 6 in 26.1 overs.
Stuart Broad after a counter attacking cameo of 28 (from 15 balls with 5 fours and a six) got out lbw to Herath when he missed sweeping a full length delivery around middle. Very soon, Graeme Swann departed after a cameo of 28 from 26 balls when he flicked Suraj Randiv in the hands of Dilshan at short mid wicket. Meanwhile, Ian Bell who struck a lovely half century perished too when he got a beauty from Herath which drifted around middle but turned away past the forward defensive shot to hit the off stump. Bell scored 52 from 87 balls with 8 fours and a six.
The last wicket pair of James Anderson (23) and Monty Panesar (13) added 36 runs before the latter was lbw to a drifter from Suraj Randiv.
Lunch Report : England are under immense pressure after being reduced to 57 for 3 in the 16 overs they faced before the lunch break on Day 2. Suranga Lakmal with a wicket and Rangana Herath with two scalps did the damage for the hosts.
It was an early blow for England when its run machine Alastair Cook (0) got trapped lbw by a late inswinger from Suranga Lakmal in the 2nd over itself. England seemed to be settling down after that but in the 11th over, Jonathan Trott (12) got himself stumped out after leaving the crease in a flick shot but only to play all around a full toss from Rangana Herath outside off and missing it completely. Trot in a failed attempt to get back to the crease ended up with a nasty collision with Prasanna Jayawardene, the Wicket Keeper.
Just about 10 minutes to go before lunch, Herath struck again when Skipper Andrew Strauss (26) shuffled far too across his stumps in a sweep and got hit on the pad by a fuller and straighter delivery infront of middle. Although Strauss was given not out initially, he had to depart after the Lankans reviewed it successfully. By Lunch on Day 2, England moved to 57 for 3 in 16 overs with Kevin Pietersen on 3* and Ian Bell on 13* which included a six off Herath.
James Anderson captured five wickets as Sri Lanka get bowled out for 318
It took 35 minutes for England to wrap up Sri Lanka's 1st Innings this morning. The hosts added 29 more runs to their overnight total of 289 for 8. Skipper Mahela Jayawardene was the last man to be dismissed when he edged a lovely outswinger from James Anderson to Matt Prior. Mahela Jayawardene ended up with a superb 180 from 315 balls with 22 fours and 3 sixes.
James Anderson completed a 12th five-wicket haul of his Test Career. His figures are 20.3-5-72-5. Apart from Mahela Jayawardene, Anderson also got the wicket of Chanaka Welegedera (19) who was bowled through the gate by a slower off cutter. Sri Lanka got bowled out for 318 in 96.3 overs.