By Garfield Robinson
Matthew Wade, playing in his third test, scored his maiden test hundred to help Australia dominate the second day of the third test in Dominica. Resuming at 212/7 Australia carried their score to 328 before they were all out just before lunch. Just as they did in Barbados the Australian lower order totally frustrated the West Indies, who would have slept contentedly, satisfied with the work they did on the first day. They were then reduced to 165/8 to leave Australia fully in charge, and them hoping that the capable Rampaul will stand with the ever-reliable Chanderpaul if they are not to concede a debilitating fist innings lead.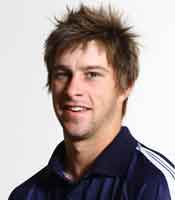 Occupying the wicket-keeping spot only because Brad Haddin had to return home, Wade sent a message to the selectors that Haddin's return was not that clear-cut. He began the day on 22 made off 72 balls, and by the time he was out, well caught by Bravo on the midwicket boundary, he had scored 106 off 146 balls with 10 fours and 3 sixes. He and Ben Hilfenhaus added 102 for the ninth wicket before falling toShillingford, who finished with 6 for 119 off 42.5 overs.
He employed the slog-sweep to good effect, depositing Shillingford high over the midwicket boundary off consecutive balls. He was dropped off the first, though it wouldn't have counted since the person making the attempt was way beyond the boundary ropes and appeared to be a member of the ground staff. Earlier, Deonarine was hoisted high back over his head for 6 and Wade celebrated his century in the day's twenty-fourth over when he drove Roach through the covers for 4. Next over, Bravo caught him on the mid-wicket boundary attempting another 6. Realizing that he was headed out of bounds when he took the catch, he threw it in the air before returning to the playing area where he grasped it once again. It was a good job of work.Hilfenhaus, who struck some mighty blows of his own, most memorably when he greeted Sammy by hacking him over mid-wicket for 6, was bowled two balls later.
Wade had been given a life in the fifth over of the day when Roach failed to accept a fairly difficult caught and bowled chance. The West Indies would have felt on their way next ball, however, when Starc, casually running with bat held across body, was out attempting a third run from a Wade shot to long-off which Brathwaite saved inches from the ropes.
Run-out was probably the most likely way to get a wicket, for though Starc had a few streaky moments, the batsmen, for the most part, seemed untroubled. Roach's direction was off, and while there was turn still available, Shillingford, who entered the attack after a half hour or so, didn't seem to be extracting the bounce that he did the previous day. Nevertheless, he added 2 wickets to his overnight 4 to finish with 6 for 119 from 42.5 overs, before a crowd that included both his parents.
The West Indies started their reply after lunch and was in trouble by the third over. KraigBrathwaite, increasingly looking like he does not yet belong at this level, seemingly tried to edge a ball from Hilfenhaus to slip. With a huge gap between bat and body he succeeded and Harris held the catch on the second attempt. This was Brathwaite's third duck in a row. He is only 19 years old and so has lots of time to hone his skills at the lower levels before returning to test cricket.
Barath, in the meantime, was not in total control, interspersing some good shots with others that hinted of uncertainty. He aimed three expansive drives through the covers early in his innings, fully connecting with one, which went for four, getting an inside edge to another, and entirely missing the third. There was also an edge off a Starc delivery that flew to the third man boundary. He had reached 29 when Lyon, bowling his seventh over, had him caught at short leg from one that turned and bounced.
Powell, though surviving a difficult chance to Ponting at short-cover off Lyon, was looking fairly comfortable by this time. He appeared to be on the lookout for the type of ball--pitching in line and swinging back in from the right-hander--that got him LBW twice in Trinidad, and now looked more studious in defense, while showing the same upright elegance in attack.
Bravo had come in at the fall ofBarath's wicket and got off the mark with an uppish 2 through cover. He then fell victim to the golden touch of King Midas, in the form of Australian captain Michael Clarke. Clarke had summoned part timer David Warner to take up the attack as soon as Bravo arrived, much to the consternation of Ian Bishop in the commentary box who saw no good reason for an occasional bowler to confront a new batsman when proper bowlers were available. Bravo promptly gathered fours from the first two balls he faced from warner, would probably have had a third had his sweep shot not been interrupted by Cowan's body at short-leg, and was caught off the fourth from an inside edge unto his pad at short-leg. The famous fast bowler had to eat his words.
The West Indies then went to tea at 73/3, in something of a hole with Powell on 34 and Chanderpaul yet to score. Four overs into the evening session it got deeper. Powell went back to cut a short one from Lyon that appeared not to have bounced as much as he anticipated and under-edged it onto his stumps. Seven overs later Deonarine was LBW to Harris when Australia requested a review which overturned the umpire's not-out verdict.
From there it continued downhill. Carlton Baugh had faced just thirteen balls when he too was caught at short-leg off Lyon. Sammy, intent as always on playing his shots, was run-out from a direct throw from cover despite a desperate dive, and Shillingford was bowled first ball by one that swung in to him from Starc.
Chanderpaul and Rampaul then carried them to the close on 34 and 24 respectively. Rampaul survived an early chance to find the boundary four times. As ever, the West Indies' hope rests with Chanderpaul, and how many runs he will be able to eke out with the two remaining wickets.