Day 3 Report by Garfield Robinson
Led by centuries from Chris Gayle and Kieran Powell the West Indies proceeded to tighten the screws on a hapless New Zealand. At stumps the score was 442, and with Narsingh Deaonarine on 54, accompanied by the aggressive Darren Sammy on 8, the West Indies will be hoping to grow the 91 run lead to well past 200 on the fourth day.
Assad Fudadin also scored a valuable half-century, and his 55-run partnership with Deonarine kept New Zealand at bay when the hosts were at a vulnerable point after Samuels and Chanderpaul fell to successive deliveries.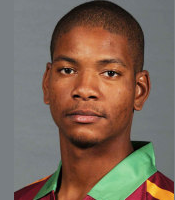 When play resumed, Gayle and Powell continued their good form from the previous day. Within about 35 minutes the Jamaican had smashed two sixes, the second of which--a pull over midwicket--brought him to his 14th test hundred. He was occasionally troubled by Wagner's reverse swing, and one ball darting in and smashing in to his pads elicited anenthusiastic appeal from the bowler. But the delivery had done too much and was missing leg.
More exasperation was in store for the visitors when aerial edges eluded fielders and raced to the ropes. On 142, Kane Williamson surprised Gayle with bounce and turn from the rough outside his off-stump, but Taylor at slip could not hold the catch as it ricocheted off the wicketkeeper's glove and the Jamaican survived. On 150, however, he tried to hit the same bowler over long off for six and holed out to McCallum close to the boundary.
Powell also had to weather some troublesome reverse swing from Wagner, and there were a few LBW shouts against him as well. Still patient, he was not reluctant to dismiss the bad ball and a cut over gully for four brought up the 200 partnership. A pull to the square leg fence gave him his maiden test hundred and his elation was evident.
When the tall Nevisian pulled a long hop from Williamson over midwicket for six and New Zealand took the new ball next over. Bracewell elicited prodigious swing and came close to obtaining a LBW verdict against Powell. But the lefthander was now becoming more expansive and Martin was soon struck for three elegant boundaries.
Wagner came on and Powell seemed intent on teaching the feisty pacer a lesson. However, after creaming his first three deliveries for fours, the opener got carried away and feathered a catch through to Van Wyk as he threw his bat at a wide delivery. It was a wonderful innings. Yet it is hoped that the opener will learn not to give away his wicket so needlessly when he was so well set and more runs were there for the taking.
Always a slow starter, Samuels showed uncertainty for his first two deliveries. Thereafter he played like the batsmen who recently dominated the highly vaunted England attack in their own backyard. He danced down the track and lifted Vettori high for six, and later, his ten runs from a Wagner over included two exquisite drives to the off boundary. But when he was only 28 Martin found a path between bat and pad to bowl him off an inside edge with the last ball of the over.
The lanky fast bowler then served up a lethal short ball to Chanderpaul that the world's most adhesive batsman could only glove through to the wicketkeeper.
Joined by Deonarine, Fudadin by this time had grown in confidence. Playing within himself at the beginning of his innings he gradually became more expansive, and was particularly impressive when driving through the offside. His demise came when he failed to clear deep mid-off with a lofted drive.
Deonarine showed some early signs of recklessness, but he then settled down and played sensibly. His unbeaten half-century contained some pleasant strokes, among them an awesome lofted drive off Wagner for six. Off the very last ball of the day he launched Vettori high over midwicket for a boundary.