Talented Aussie fast bowler Pat Cummins has been ruled out of the rest of the one-day series against England after suffering a side strain during the first ODI at Lord's. This is not the first time that the upcoming Australian talented has suffered due to injury. The worrying aspect for Cummins and Australia is that his international career has just begun, but he has hardly managed to last one full series in his short international career so far. Here's a look at a few other talented fast bowlers whose careers were severely handicapped due to injuries.
Brett Schultz
Today's young generation may not even have heard of this Brett. A left-arm pacer from South Africa, Schultz was expected to spearhead the Proteas attack on their return to international cricket in 1991-92 along with Allan Donald. He showed early promise, and was effective even in Sri Lanka during the 1993-94 tour. With his raw pace and aggression, Schultz troubled most batsmen, picking up 20 wickets in the three-Test series, Unfortunately, his bowling action put a lot of stress on his knee. He had to undergo surgery on the same more than once in a short career. All this eventually took a toll on his body and his performance, and he played his last in 1997. Over a period of five years, Schultz played only nine Tests and picked up 37 wickets at an astonishing average of 20. Those who saw him at his peak believed he could have been a real threat to batsmen the world over.
Lasith Malinga
The news is that the Lankan slinger may return to the five-day game, but considering his history of injuries that seems highly improbable. The knee injury he picked up during the tour to Australia in 2007 in fact even threatened his international career. He did not play Tests for the next couple of years, and only returned for the Tests against India in mid-2010. However, his knee played up again and he missed the final Test of the series. Malinga continued recuperation. However, in April last year, he eventually decided that he had enough of the five-day game, and would concentrate only on the limited overs version. Over a period of six years, Malinga played only 30 Tests, claiming 101 wickets.
Simon Doull
The Kiwi pacer would always be remembered as the man who demolished India during the 1998 Boxing Test with figures of 7 for 65. He sent back the first five Indian batsmen. Doull could have done a lot more but back and knee injuries relegated him to the retired hurt club. In 1999, he was picked for the first Test against England but injured his knee so badly that it required surgery. Doull could never quite recover from the setback, and his international career ended a year later. Doull played 32 Tests and ended up two short of 100 wickets.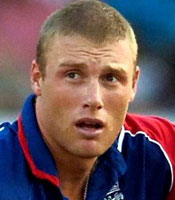 Andrew Flintoff
The England all-rounder did salvage some pride remaining injury-free for a couple of seasons in the mid-2000s. It was during this period that he was at his best. He did end up with 226 Test and 169 ODI wickets, but he could have done much more had he not been hampered by persistent knee and ankle injuries throughout his career. That he did not take care of his weight early on did not help. In September 2010, Flintoff eventually decided that his body couldn't take on more.
- By A Cricket Analyst