By BV Swagath
Varun Aaron, the fastest Indian bowler ever remains to be out of action because of a recurring back injury. The 22-year-old Jharkhand Express who missed an important tour of Australia seemed to have recovered when he played for the Delhi Daredevils during IPL 5 in eight games. Aaron clocked his regular speeds of 145 kmph but it is learnt that his back didn't heal 100% at that time!
According to news reports, it is learnt that the BCCI had unknowingly delayed Varun Aaron's treatment in Australia which ideally could have been done in December according to TA Sekhar.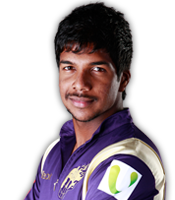 TA Sekhar - the MRF Pace Foundation Guru and also the Delhi Daredevils' Mentor has said that the back injury was a relapse of Aaron's old injuries after the IPL. Aaron instead of getting treatment done in Australia in December itself was asked to go to the National Cricket Academy (NCA) for rehab.
Just 22 years of age, Varun Aaron has already two stress fractures in his back. So far, Varun Aaron has played just the 1 Test and 4 ODIs in which he proved his potential as an aggressive wicket taking fast bowler. Aaron is likely to be out of action for atleast another 3-4 weeks.