- By BV Swagath
England have today named squads for the ODI and the only T20I against West Indies. The only notable change in the English line-up is the comeback of Ian Bell which was possible following the shock retirement of Kevin Pietersen from limited overs cricket. While the 14-man squad for the 3-ODI NatWest Series will be led by Alastair Cook, the T20 team will be led by all-rounder Stuart Broad.
According to the ECB website, National selector Geoff Miller is quoted to have said: "We are anticipating a very competitive NatWest Series against West Indies and are looking to continue to build on the progress we made in limited-overs cricket earlier this year against Pakistan.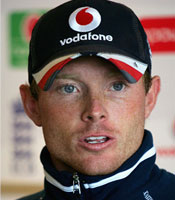 "Kevin Pietersen's recent decision to retire from one-day cricket means we now start looking at other options available to us as we prepare to defend our ICC World Twenty20 title and look towards next year's ICC Champions Trophy and the 2015 ICC Cricket World Cup."
England will indeed face tough competition from West Indies unlike in the Test Series. The reason is simple as the West Indies will be powered by the inclusions of world class performers like Chris Gayle, Dwayne Bravo, Kieron Pollard, Andre Russell and Dwayne Smith. Off spinner Sunil Narine is also expected to provide England with a stiff challenge with his wonderful variations.
Following are the English Squads to face West Indies:
England ODI Squad: Alastair Cook (Captain), James Anderson, Jonny Bairstow, Ian Bell, Ravi Bopara, Tim Bresnan, Stuart Broad, Jade Dernbach, Steven Finn, Craig Kieswetter (Wicket Keeper), Eoin Morgan, Samit Patel, Graeme Swann and Jonathan Trott
England T20I Squad: Stuart Broad (Captain), Jonny Bairstow, Ravi Bopara, Tim Bresnan, Danny Briggs, Jos Buttler, Jade Dernbach, Steven Finn, Alex Hales, Craig Kieswetter (Wicket Keeper), Eoin Morgan, Samit Patel and Graeme Swann
Following is the Schedule of the ODI and T20I Series:
NatWest ODI Series: England Vs West Indies
16 June: 1st ODI at Southampton
19 June: 2nd ODI at The Oval
22 June: 3rd ODI at Leeds
NatWest International T20: England Vs West Indies
24 June: Only T20I at Nottingham