Second Day's Match Report by Garfield Robinson
There can now be no doubt as to who is in control of the Second Test at the Queen's Park Oval in Trinidad. After Michael Hussey with 73 piloted Australia to 311, they had the West Indies against the wall by ripping out the first three in the order for 49 runs. Kemar Roach, bowling with pace and troubling all the batsmen, took 5 wickets to ensure that the Aussies didn't run away with the game.
With luck abandoning them, the West Indies bowling did well to take the remaining 5 wickets for an additional 103 runs. Still, a hard third day awaits their batsmen, and if they are not to be completely blown away it is expected that Chanderpaul, as good as any in these challenging conditions, will have to lead the way.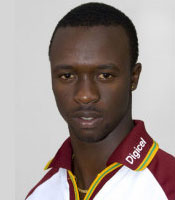 He had faced 26 balls for a single run, while the more aggressive Darren Bravo was on 16 when bad light brought an end to the day's proceedings. Rain allowed only 75 of the allotted 90 overs to be bowled and the West Indies will be hoping that both batsmen will survive long enough to lay the foundation for the West Indies to get within reach of Australia's score when play resumes at an early 9:30 start. Should they fall too far behind, then it is almost a certainty that they will go down 0-2 at the end of this game.
The West Indies took the new ball first thing this morning and it paid early dividends when Matthew Wade edged a delivery leaving him slightly and Bravo at first slip accepted the catch. They had not yet added to their overnight score.
Pattinson and Hussey then carried Australia to within 10 minutes of the lunch break when the rains came again, having earlier stopped play for about 16 minutes. By then they had fought hard to add 59. Pattinson, playing and missing about as often as he connected, and hit twice on his arm by both Edwards and Roach, must have frustrated the West Indies no end, while Hussey collected his 50 after having benefitted from Carlton Baugh's generosity once again.
On 47 he ran down the wicket to Shillingford, was beaten by the turn and bounce, and was relieved to see the wicketkeeper fumble the take. Baugh had dropped him on 5 the previous evening, also off Shillingford. They were to pay dearly for such sloppiness, for Michael Hussey is not one to spurn such gifts.
Baugh might point out, in mitigation, that the Queens Park Oval has been notoriously unkind to keepers, and is actually third on the list of grounds with most byes conceded in a test match. In 2009, Denesh Ramdin and Matt Prior gave up 62 between them. The record is 69. That would be little consolation to the West Indies however, who would have felt they were falling behind in this game, given the state of the pitch.
The game restarted at 2:10 and Australia plodded on, still playing and missing, and still fighting hard for runs. Whenever the edge was found the ball fell short of, or away from the fielders. Hussey freed himself to slog-sweep Shillingford high over midwicket for a huge 6. He and Pattinson had carried Australia to 297 when he reached to play Deonarine through the offside and was caught at short extra-cover.
His dismissal marked a change of fortune for the West Indies and thereafter the tail fell away rather quickly. Hilfenhaus spanked Roach square on the offside for 4 one ball and was bowled by the next. The last ball of that same over accounted for Michael Beer, LBW. Roach had taken 5 for 105 and Australia was all out for 311. He was the most expensive bowler, but perhaps also the most threatening. Shillingford bowled well too, and was unlucky to end up with just 3 wickets from all of 49 overs. He will be a very tired man when this game is done.
The West Indies openers came out to start their reply after the break, and as Barath marked his guard to take first strike he would have been flabbergasted to see the new ball in the hands of left arm spinner Michael Beer and fielders close in at silly point and short leg. The last ball of his first over was full of spite as it spun past the edge of Barath's defensive bat. Hilfenhaus, from the other end straightaway had the new ball swinging away dangerously, and the batsmen would have realized, had they not done so before, that they were in for a very difficult time.
Brathwaite, not up to the challenge on this occasion, fell LBW in Hilfenhaus' second over. The West Indies had lost their first wicket without a run on the board and would not score until the sixth over when Powell, in at 3, guided a ball past point for 2.
Barath's first aggressive shot was a drive, in the air, in the direction of cover. Beer ripped the next ball past his outside edge, caught him on the back foot with the following delivery that he didn't spin and West Indies were 26/2.
Powell and Bravo did not let the situation deter them from playing their shots whenever they saw the opportunity, such as when Beer pitched up to Powell who drove him elegantly, if uppishly, through the offside for 4. One powerful lofted drive by Bravo almost decapitated his batting partner who had to duck with haste.
Pattinson then came on for his first bowl in a test match in the Caribbean and got Powell LBW with his very first ball. It swung slightly back into him and he trudged off after being given out by the umpire, perhaps not wanting to waste his team's last referral. One can only imagine how he must have felt when he found out the decision would have been reversed because, according to Hawkeye, the ball had pitched outside leg, and that would have nullified the LBW decision.
Chanderpaul and Bravo then carried the West Indies to the close, brought on by poor light, with some difficulty. Nobody is really going to be secure on this surface. The West Indies batsmen will have a hard task surviving on the third day on this deteriorating track. Australia will be itching to get at them in the morning.